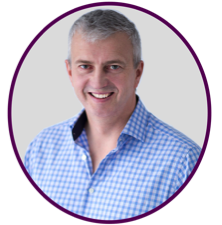 Paul Broadfoot develops Intrapreneurship in forward thinking organisations focused on launching new areas of growth. By helping companies to identify, develop and activate their Intrapreneurs with Business Model Innovation frameworks,  Paul can help you create new markets and deliver on the promise of corporate innovation. He is Author of the book Xcelerate; innovate your business model, disrupt your market and fast-hack into the future. Paul speaks at conferences and events to get people thinking differently about 'future business' for their roles and their companies, inspiring them to act.
 
For when you need to know, what's NEXT….
Paul's background is quite different in that he is as comfortable developing strategy as he is talking through financials. He has an MBA from the University of Chicago – renowned for their economic and financial rigour and actually has a Chemical Engineering degree too. His GPA in the MBA was 4.0 (a perfect score)
The most unique part of Paul's intellectual property are the frameworks he has created to classify, diagnose and then harness growth enablers and catalysts.
The foundations for a lot of his intellectual property is grounded in economic and behavioural economic theory that is adapted and applied to practice in the real world
We are not researchers but we love research. We take great research and bring it into practice.
We love nothing more than someone coming back to us and saying "hey it worked", we smile (because we know it does) and say "well done for having a crack", (because that is the secret). Then we say – "keep going".
A few things we believe
that we need to innovate the way we work as much as we innovate our next products
that the rate of change right now, catalysed by technology, is something our current generations have never seen before
that "normal" businesses can take lessons from disruptors to future proof themselves
A few things we live by
that there is always a way to win and get results
that great service is too rare
that most businesses stop short of the depth of thinking required to be top performers
A few things we are good at
thinking deeply about change and then delivering NEXT steps for growth
giving people frameworks and tools to diagnose, classify, learn and then act
facilitating through noise to get direction
Sound Good? Contact Paul today