It's getting harder to stay better. Leaders know what it takes to get ahead and stay ahead. It's never been more important to invest in the thinking required to get to your next level of leadership and performance. Developing your strategic thinking, having a sounding board for those big decisions and finding new growth in markets that can shift against you is an essential pattern of strength. Enhance how you tap into more of the latent potential in your organisation by building trust, tribes and traction for increased performance and faster results. Your existing business models, customer acquisition and market shifts are all conspiring to make leadership tougher. All the more reason to get an ally, a mentor and a guide who can work with you to make you an even better leader of strategy and growth with your own personal brand of disruption. The future of leaders in a disrupted world is to develop your thinking. It's the thinking, judgement and ways of working that will differentiate you from the pack.
Disruptive Leadership mentoring program
10 month program
One-on-one completely tailored approach to your specific circumstances
60 minutes skype/in person depending on location per month
On demand access between sessions for critical discussions
For more information or to secure a place, contact Paul on
Growth Strategy Workshop
There are two major problems with strategy work:
when you get together to talk about strategy you get bogged down in current operational issues
you don't spend enough time with the right frameworks and inputs into developing future strategy
The end result is often incremental, with no strong new ideas and thus nothing gets implemented with conviction.
You need something different from your strategy development when entire market segments are being reshaped.  Challenges to the status quo have never been greater and standing your ground in the face of waves of change, never riskier. Harnessing our own disruption and innovation potential is critical. You know your business, customers and markets well, we are the specialists at developing winning strategies with those ingredients.
You need to orient your organisation to its future growth capability – now. If this is neglected too long, your task becomes harder and poor results endure longer.
The three perspectives your strategy needs to cover are your market, your customer and your company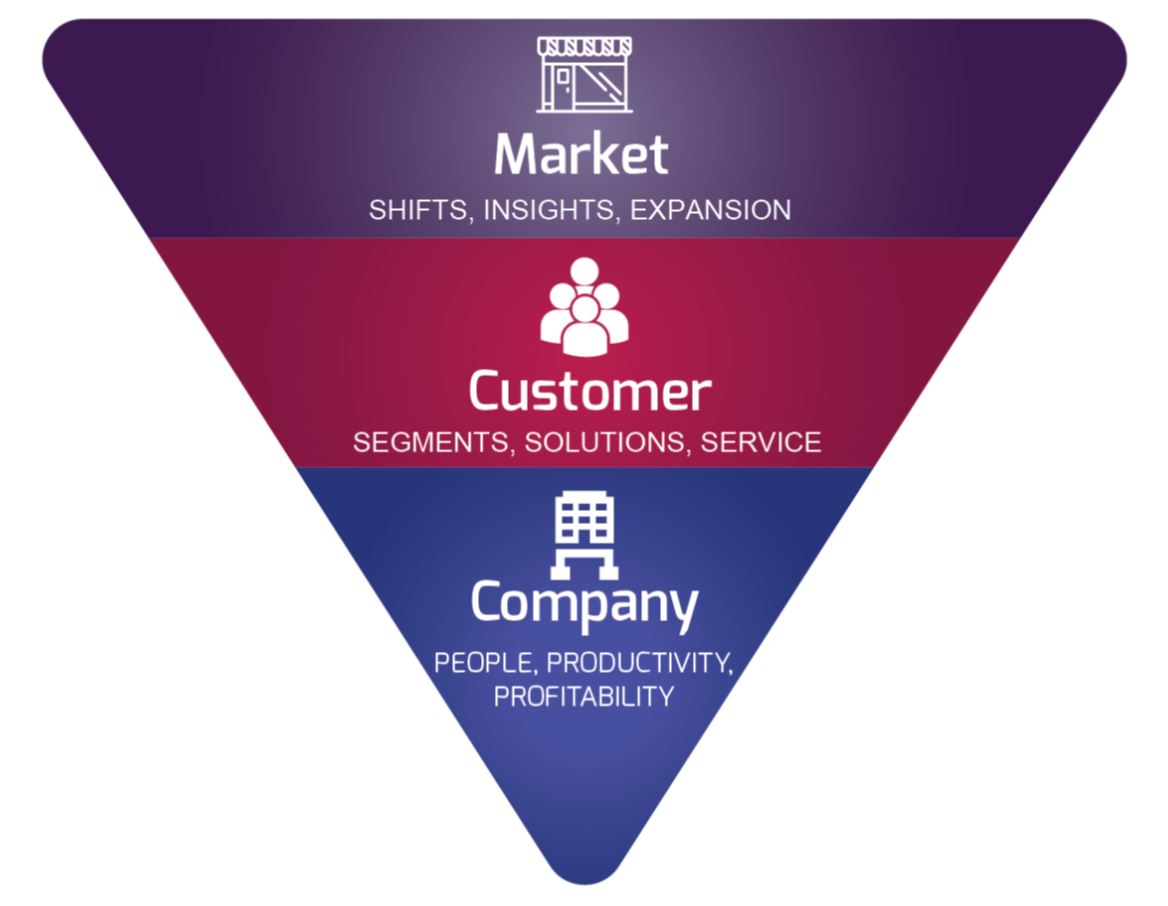 Your growth approach needs to incorporate decisions and opportunities across your Business Model, Revenue Model, Communication Model and Differentiation Model.
Growth Strategy Launch Program (or do as a Retreat)
2 day facilitated and guided program
Identify significant new growth areas for your business and the approaches to deliver them
Disruption and Innovation options identified
Suitable for groups that have the ability to set direction and make positive change happen
For more information or to book, contact Paul on
Growth Strategy Implementation Program
Some companies prefer to have an external impetus for change and accountability and decide they want further support from us beyond the launch event above. Getting buy-in and engagement can sometimes be tough. People often discount advice from those closest to them. At exactly the time when everyone needs to commit to the new, there are always those who cling to the old.
With every organisation needing to shift faster to higher rates of growth and profitability, having a change catalyst embedded into the process can help immensely.
Thus, the growth strategy implementation program is more a partnering approach to results. Working together over time to ensure the revenue and profit lines are impacted as soon as possible. This involves fortnightly or monthly half day meetings of a leadership group in your business. Action and Accountability the name of the game here.
Growth Strategy Implementation Program
(6, 12 or 18 month programs available)
For more information or to book, contact Paul on