Well its only gunna be a smack if (A) you love status quo and don't want to change/improve AND (B) you are NOT already a leading version of your industry.
We walk into the doctor's practice, wait for… now let me think… too bloody long and then have the pleasure of being called from afar, not introduced and barely keep up following their backs down a corridor. Does anything say more about how not to do something than following someone's back who hasn't had the courtesy of saying hello? I know, I know it saves precious billing minutes every day……
We have an issue and need a lawyer, how much will it cost?… now let me think… too bloody much and we find that out at the end. Yes, at the end, with no way of assessing if it could have been done faster or better.
We sit down for our annual review with our Business Accountant to see how much money we made last year… now let me think…not bloody enough. They studiously review our numbers (which they haven't looked at since we last had a return done) and are meaningfully told to raise income, lower costs, improve margins. How? See you next year.
These professional services are examples of businesses that we 'have to' see. We have to get a diagnosis, get a tax return done or a legal issue resolved. Thus we generally see them when we are in, or avoiding, 'pain'. The norm in these industries is, we go to them, we see them in their offices.
Word on the street is that these types of businesses are going to be disrupted. That their business models are going to be eroded over time and that there is a need for them to evolve their business models. True or False?
The most powerful trend in the world right now, enabled and facilitated by technology, is:
The world is tapping into additional, latent capacity
We see this as people using spare capacity in their cars by offering others' rides, we rent our unused rooms at home out to travellers, we share our car parks, our leisure equipment, and we use the developing world's populace to fuel our consumption. In economics, when we put on additional capacity, prices go down and competition increases.
One space we have more capacity coming on stream is in the area of knowledge. The Khan Academy has helped over 10 million people learn for free. GE uses open source innovation to get people all around the world to solve engineering problems. People use Kaggle's data scientists to solve business issues where huge data sets are involved.
The business model that has been the paradigm in much of professional services for a very long time has been to exchange knowledge and time for money. This business model's asset is knowledge. But as knowledge becomes more and more available and the artificial intelligence space gets more and more powerful, will the knowledge that professional services dispenses become less valuable?
Access to, and dissemination of knowledge is spiking; the worlds capacity of knowledge is increasing exponentially. Additionally, data collection is about to go into orbit from bio-metric sensors to algorithmic processing and we are about to see big shifts.
Consider:
The first artificially intelligent computer lawyer has already been hired (his name is ROSS)
Last year, almost 48 million Americans used on-line tax preparation software rather than human tax professionals to file their tax returns.
Every year on eBay, 60 million disagreements are resolved using online dispute resolution software, without a traditional lawyer. This is three times as many lawsuits as are dealt with in the entire US justice system.
There are already on-line GP's where everything is done on-line and prescriptions are sent straight to a local pharmacy
So far that frame of 'have to' vs 'want to' typically separates how good an industry is at serving its customers. The 'have to' industries typically lack great service. The higher the barriers to entry to getting a "ticket" to practice the professional service, typically the more insulated they are from competition; as they often have a steady stream of clients that simply 'have to' avail themselves of their services. We must see a doctor when we are sick, a tax agent to submit our returns and only a lawyer can practice the Law. We rarely see sales people in these businesses. We rarely see great service in these businesses as this hasn't had to evolve very far to get the work they need.
So here's the point for all those in the 'have to' bucket. If you haven't already …you had better get active on adding more value, and innovating your business models because when people don't 'have to' any more, when they have alternate choices, when they have access to more information, their need for you will only be the best of what you can do, not the average.
So, what to do?
Make sure your business model is future engineered

offer information they don't have on HOW not just WHAT
provide insights and reasoning, help them beyond their request
help them with better habits
offer products (not just service)
innovate your business and revenue models

Be first to adopt technology to facilitate you and your staff to spend more time on higher functioning
Serve people as if you are under fire from competition, give them tremendous value, give them more than they expect, differentiate yourself from the next bunch of similar businesses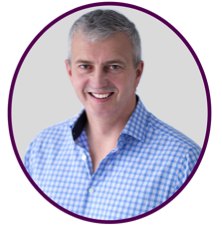 Paul Broadfoot is a Business Model Innovation Specialist. He guides businesses in what to do NEXT to achieve sustainable growth in the face of market change. He has honed an approach to business growth improvement, developed from analysis of business disruption utilising a proprietary business model and revenue model assessment tool. After years in corporate life he grew tired of the lack of real conversations about business improvement. He instead started his own firm and sought to work with companies that were serious about the need to change. Paul works with a select group of clients that are determined to improve and for these he runs growth strategy programs. In addition to this, Paul speaks at conferences and events to get people thinking differently about future business for their roles and their organisations, inspiring them to act.
For when you need to know, what's NEXT….
Contact Paul